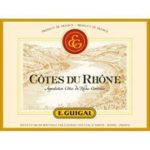 2015 E. Guigal Cotes du Rhone Blanc, Cotes du Rhone, France                     $14
This blend from Northern Cotes du Rhone is 65% Viognier, 15% Roussanne, 8% Marsanne, 8% Clairette, 2% Bourboulenc, 2% white Grenache.  The full bodied Viognier  and Roussanne carry this blend but the other grapes provide fruit and depth typical in Rhone blends. This is a bright, clear yellow wine with a fresh nose marked by the distinctive aromas of the Viognier – white flowers, apricot, acacia and white peach. The richness and body make this a well-rounded wine with elegance, strength and balance that is an easy aperitif that can carry guests through a holiday menu.
2013 E. Guigal Crozes-Hermitage Rouge, Cotes du Rhone, France                   $20
E. Guigal uses 100% Syrah in this full-bodied wine. For the holidays this wine gives guests who prefer red wine a nice option to complement a cocktail buffet or a full dinner. This is a dark red wine that has a nose of red fruits, cherry and strawberry with delicate oak. Due to long oak ageing this red and black fruit rich wine has remarkable freshness and refined tannins. According to Robert Parker, now is the time to uncork this wine and enjoy!