Featured Wines for October – 2012 Domaine Pichot Vouvray, Loire Valley & 2011 Terrasses du Frigoulet, Languedoc-Rousillon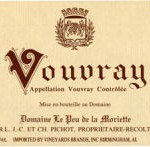 2012 Domaine Pichot Vouvray, Loire Valley  $17
Vouvray wines are unique and have quite unparalleled qualities. In fact, very few appellations in the world are made from a single, quite rare grape variety as is the case here with the Chenin Blanc grape also referred to as Pineau de la Loire. This 2012 Vouvray is known as Le Peu de la Moriette. This is a  semi-dry wine with perfect balance between dry and sweet which makes this a perfect choice for seafood or poultry prepared with creamy or citrus sauces. It combines freshness and roundness on the palate so it works well as a appertif then carries all the way through a meal. Expect prices on Vouvray to rise due to summer storm damage in the region. Hail storms destroyed this year's grapes and did a great deal of damage to vines.

2011 Terrasses du Frigoulet, Languedoc-Rousillon   $11
Terrasses du Frigoulet is a blend made from hand harvested, de-stemmed fruit. The blend for the 2011 vintage is 35% Carignan, 30% Grenache, 20% Syrah and 15% Mourvedre from 100% estate bottled fruit.  Wine Spectator gave this wine a 90 and describes it as a big  powerful red with concentrated mulberry, dark plum, blackberry and baked cherry flavors. The finish offers a taste of chocolate. This is a "country style" wine that is great with stews, hearty soups and roasted meats.