Our July wines come from Australia where it is winter just as we pass the Summer Solstice. The wines are from South East Australia. This area encompasses all of the state of Victoria and parts of South Australia and New South Wales. The South Eastern Australia wine region is the engine that drives the Australian wine industry.
Evans Wine Company, was established by Len Evans to export Australian wines around the world. The principal export label, Bulletin Place, was named for Evans' famous club and shop in Sydney. After Evans' death in 2007, Bill Calabria, owner of Calabria Family Wines, took over the Bulletin Place label. Calabria Family Wines is a dynamic family-owned company that was established in 1945 in the Riverina region. They are committed to producing outstanding premium wines and are proud to carry on Len Evans' great tradition through the Bulletin Place brand.
July's wines are Bulletin Place Unoaked Chardonnay (2019) and Bulletin Place Merlot (2019). Many of our customers enjoy unoaked Chardonnay and this one has received good reviews. Also many of our customers do not ask for Merlots so I am hoping this selection will introduce a Merlot that changes minds. During First Friday July 2 we will be tasting these wines and a Chardonnay and Shiraz from Margaret River in Western Australia.

2019 Bulletin Place Unoaked Chardonnay, South East Australia $10
This unoaked Chardonnay is clean and crisp with tart citrus and apple flavors similar to Chablis. Juicy, brambly berry flavors offer a healthy dose of toasted herb and cedar notes on an easy-drinking frame. A touch of tahini mingles with pear, apple and citrus… Drink now. Alcohol: 13.%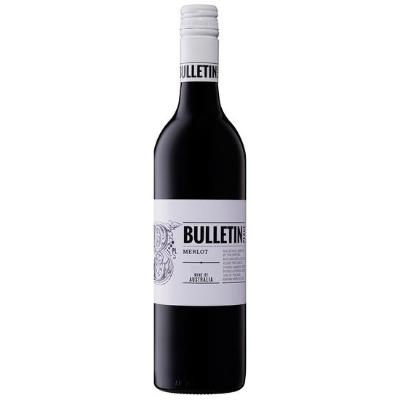 2019 Bulletin Place Merlot, South East Australia $10
Fresh and crisp, with candied cherry, strawberry and dried herb notes that show touches of spice and cedar on the smooth finish. this wine This Merlot has an intense bouquet of ripe cherry, plums, and dried herbs. A flavorsome palate of sweet overtones. Drink now. Alcohol: 13.5%