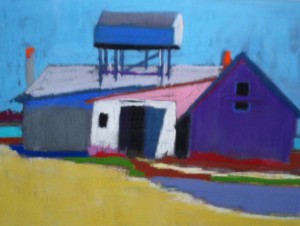 Paint Snow Hill & Deborah Rolig
Bishop's Stock is pleased to offer new work by Deborah Rolig and a selection of paintings from April's 2013 Paint Snow Hill. Rolig has been May's featured artist for 6 years. Her studio time was interrupted by her husband's illness. She is now returning to the gallery with a limited amount of new work. We are thrilled to have her back in her studio and are very pleased to show what she has been doing.
April's Paint Snow Hill 2013 was a great success with 70 artists creating over 300 paintings. The gallery will be showing a selection of that work by 15 artists. This is plein air painting at it's best. The painting shown is by Diane Hurwitz-Specht. It was awarded the 10th Anniversary Award judged by Christie Taylor, Hodges-Taylor Art Consultancy, Charlotte, NC. If you missed the "wet paint" show and the chance to see the work created a 3 day period this exhibit will give an idea of the wonderful diversity the participating artists bring to Paint Snow Hill.