Windemere Winery was founded in 1985 by Cathy MacGregor. The name Windemere comes from an old Scottish village destroyed hundreds of years ago by the British. Her approach was to devoted to the production of small lots of premium Chardonnay and Pinot Noir wines grown on the Central Coast of California. Her wines have been produced in the Burgundian tradition. Chardonnays are lean and crisp.
When MacGregor retired in 2006 and she handed the reins over to Nancy and Craig Stoller to continue creating future vintages of Windemere wines. Today, you can find the Windemere label through Sextant Wines located in California's Central Coast. The Stollers come from a family of vine growers so venturing into wine production was an easy step. With this transition, the Stollers added Paso Robles Cabernet Sauvignon expanding their coastal vineyards. Their Cabernets are also produced with Old World qualities found in Bordeaux wines.
2020 Windemere Chardonnay is family grown in Sonoma County. The 2019 Windemere Cabernet Sauvignon is family grown in Paso Robles. With outdoor entertaining ahead both wines are great compliments for grilled menus.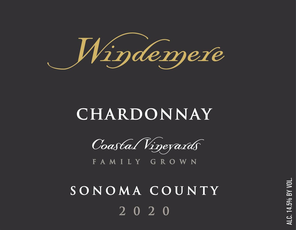 2020 Windemere Winery Chardonnay, Sonoma, California $17
This wine is produced as an Old World Chardonnay. In the tradition of Burgundian wines, this is a Chardonnay that is clean and crisp. It has bright acidity and reflects the minerality of the coastal soil. Enjoy with artisanal cheeses and summer entree salads. Alcohol: 14.5%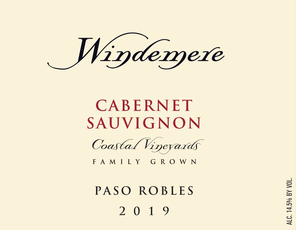 2019 Windemere Cabernet Sauvignon, Paso Robles, California, $15
Now that Windemere wines are grown and produced by Sextant Wines, this Cabernet Sauvignon grapes from Paso Robles were introduced. This is has the qualities of a Bordeaux wine – full bodied and dry. This is a perfect wine for summer grilled red meats. Alcohol: 14.5%